Hello Test Subjects!
Today a brand new mod called "Thinking with Time machine" has been released on steam, through steam greenlight!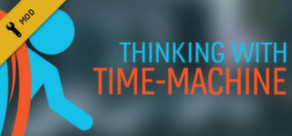 In this mod you will find yourself using a time machine to be able to solve the puzzle together with your past self! This past self will accurately repeat all your actions, creating a unique twist on the well known portal mechanics!
I hope you all enjoy it, let us know in the thread below what you think of the mod!
Store page: http://store.steampowered.com/app/286080/